Introduction
Nailing down the first impression is an essential skill for professional speakers. Because of the high supply in the speaking industry, a first impression that sets you apart from the crowd goes a long way toward landing gigs. Often, knowing how to write a speaker bio is an essential part of creating that incredible first impression.
Talking about yourself might be easy, but that doesn't mean you know how to write a bio. And if waxing eloquent about your own accomplishments doesn't come naturally or this is the first time you've put together a professional bio, this task starts to look pretty daunting. Like any professional bio, your speaker bio deserves a good deal of thought and intentionality. Your speaker bio should be oriented toward a few particular goals (which we'll cover shortly). However, it is far more than a paragraph version of your resume or CV. So what is it? How do you write a speaker bio?
The Speaker Lab exists precisely to help speakers like you with questions like these. We've created this guide to writing your speaker bio so you can wow clients and audience members alike, whether you have 100 or 500 words to tell your story!
There are several situations that call for speaker bios. These might vary in length, tone, and audience. However, the principles behind a good professional speaker bio remain the same regardless! In this piece we'll review the contexts in which you'll use a speaker bio as well as the principles that make them great. Of course, we can't tell you what makes a speaker bio fundamentally awesome without giving a few examples! In the second section we'll dig deeper into some example bios from professional speakers who embody the fundamentals. You can use these fundamental principles as a basic bio template for writing your own!
Where to use your speaker bio
If you've read, watched, or listened to a lot of our TSL content, you know one of the first things we tell aspiring speakers to do is create a speaker website. While you're working on that website, you will realize you need to say something about yourself. The "professional bio" you fired off a couple years ago to your class alumni update probably isn't going to cut it. Time for a speaker bio!
If you have a standalone speaking website, your bio probably belongs on your "about" page. If your website includes a lot of services other than speaking, you could put a more speaking-oriented bio on your "speaking" page. Don't sweat this decision too much, because you can always update or shift things around in the future! For inspiration, see how the speaking stars whose bios we feature below tackle this one depending on the scope of their business.
The speaker bio on your website should be directed at your clients. Especially at the beginning of your career, the people who pack in the auditorium will probably not be the people hiring you. A good speaker bio can make or break your chances at landing a gig, so don't feel that any time or effort spent on this step is wasted! It's often wisest to have a short, punchy, introduction to your bio as well as a longer, more elaborate section. The short section can go on a landing page, home page, or just the top of your "about" page to capture attention. Check out Erick Rheam's website to see what we mean!
Another place online where your speaker bio might appear? The website of any Speakers Bureaus you work with.Likely the most professional version of your bio, this will be very accomplishments-oriented as it appeals to clients who already have very specific goals. For a great bio example from a bureau website, look no further than Stephen Shapiro's at AAE speakers.
So your elegantly crafted "about" page just won you a client. What about they ask for a bio to put in the event program?
Can you just copy and paste from your website? If your website bio is really concise, that might work. Oh no. They asked for ~100 words! Don't feel bad if you have to pare it down a bit. You can still maintain all the principles of a great speaker bio (see the next section) while targeting a new purpose and readership! If someone has to choose between your talk and another scheduled at the same time, that paragraph (hopefully next to a stunning headshot) has to hook them.
Unlike your website bio, the program bio is specifically oriented toward your audience rather than the event planner. The great thing about these event-specific bios is you can change them up for every audience. Certain awards and achievements with which you wooed the interest of the client might not apply to the very niche industry conference you're speaking too. They are more interested in how you can serve their specific set of needs, so edit accordingly. This bio will probably have the most constrained word limit of all, but you can still integrate all the principles we list below!
Tip: Make this version of your speaker bio sound so good your event planner doesn't feel tempted to make any unnecessary revisions. You don't want to be surprised by what you read about yourself!
How to write a great professional speaker bio
Every speaker brings something unique and wonderful to the industry. That means every speaker bio can and should sound completely different. In this world, standing out from the crowd is your biggest advantage!
That isn't to say there aren't any important guidelines to follow. If you peruse the professional bios of the most successful, interesting speakers, they all have a few things in common. We've distilled those commonalities into five fundamental principles for a great professional speaker bio. Use these as your bio template and you'll be off to a great start!
Engage the reader. Whether it's a client or a conference attendee, they have read a thousand boring speaker bios before. Be interesting! Put a little extra effort into your writing so it actually reads like a story. Creative entrepreneur Beth Inglish nails this one to a T on her website.
Maintain your personal brand. Who you are onstage should just be an extension of who you are offstage. If that means lots of data, hard-hitting facts, and no-nonsense tone, that is exactly how to write your bio. We say this all the time…if you're a speaker, you're a salesperson…for yourself! Your entire business should radiate authenticity, starting with your bio. For example, many tips for professional bio writing recommend only using the third person. Many speakers buck this trend because they emphasize relatability and connection throughout their personal brand. And that's totally fine.
Explain who you serve and what value you add. These are the two essential components of any good speaker bio–and really, any professional bio regardless of your industry. These make up the "hook" that grabs the attention of audience and clients alike. If you cut out the rest of your speaker bio, this section (ideally one or two sentences) should be able to stand alone and still sell your services. At the same time, someone who is not a good fit for your speaking services can read the couple lines of your bio and say "ok, they're cool but they're not for me," saving you both valuable time.
Include your relevant accomplishments. If you won a speaking award, put it on there! If you have helped business leaders double their revenue in a span of six months, let them know! While you shouldn't over-inflate reality, this isn't the time to be overly humble. However, the word relevant is pretty important here. Don't mention niche accomplishments that neither relate to your audience or that personable, human appeal. Mike Kim, Joe Hirsch, and Nancy Duarte all have amazing speaker bios that integrate their most relevant personal accomplishments.
Be human. A bio is probably the first glimpse a client gets at what makes you you. If you have some cute pets, love going to Disneyland with your family, or tend to pick up really outside the box hobbies, include it! Many speakers stick these sorts of "fun facts" toward the end, but feel free to integrate them in creative ways as well.
Using these five principles as a rough bio template, you should be able to craft a pretty great description of how awesome of a speaker you are. If you still need inspiration, keep reading!
Amazing examples of how to write a speaker bio
The great bios we mentioned above as examples deserve a closer look. These speakers and friends of TSL embody just about all of the principles we teach for speaking success, so we encourage you to take a look around their sites to see how they do it!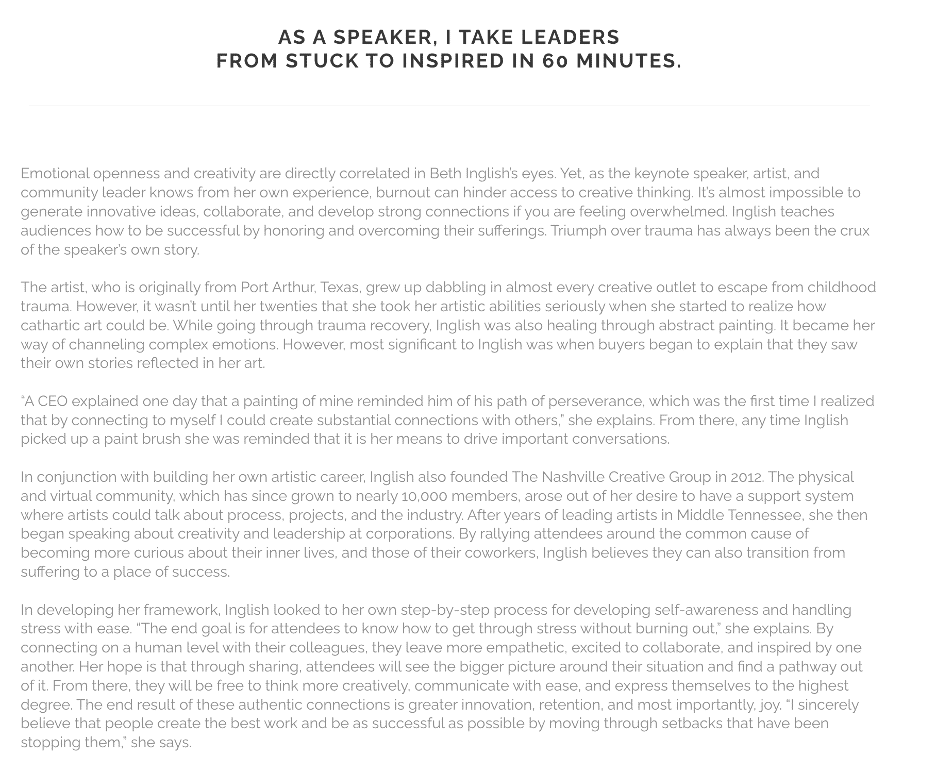 Beth's opener is enough to interest anyone looking to get "unstuck." She takes full advantage of her website's "about" page to regale us with an appropriately longer bio. Like a poem, this example is moving and eloquent, describing her path from artistry to speaking. It pulls at the heartstrings and really makes you think about the relationship between art, creativity, and business. Which is exactly what Beth does as a speaker. Beth's accomplishments are deftly woven into her story rather than advertised front and center, which is perfectly in keeping with her personal brand as a creative. While her masterpiece would have to be pared down for an event program, it is a stunning example of a human, engaging, and authentic professional bio for a speaker website.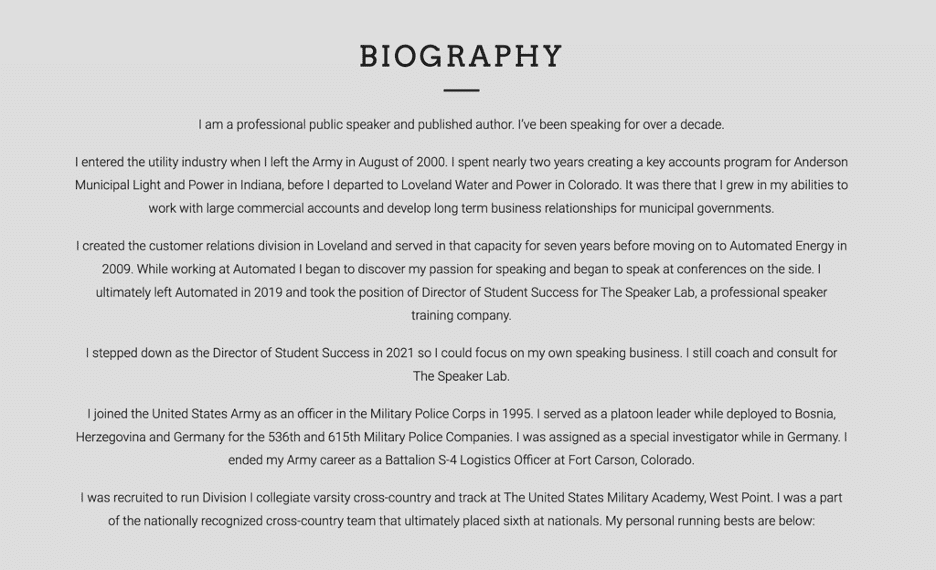 Erick's shorter "about me" section includes only the most essential biographical details along with what he does and whom he serves. Any potential client would read it and immediately know if Erick has potential to fit their needs. The longer bio delivers the "why" for Erick's speaking services, all while seamlessly weaving his professional accomplishments into his speaking journey. If you scroll down, you'll see Erick includes his personal running bests. His college running career might seem totally unrelated to the speaking industry, but doesn't that info make him more interesting?
Compared to some of the other bio examples, Stephen's might come across as excessively dry. But context is everything! The client who reaches a speakers bureau website likely has very specific needs and wants to know for sure that Stephen is a good fit. This bio gives a comprehensive understanding of his business experience, speaking qualifications, and former clients. Furthermore, this bio clearly and accurately reflects Stephen's personal brand. If you check out his personal website, he uses copious business-oriented diagrams and references his bigger clients front-and-center.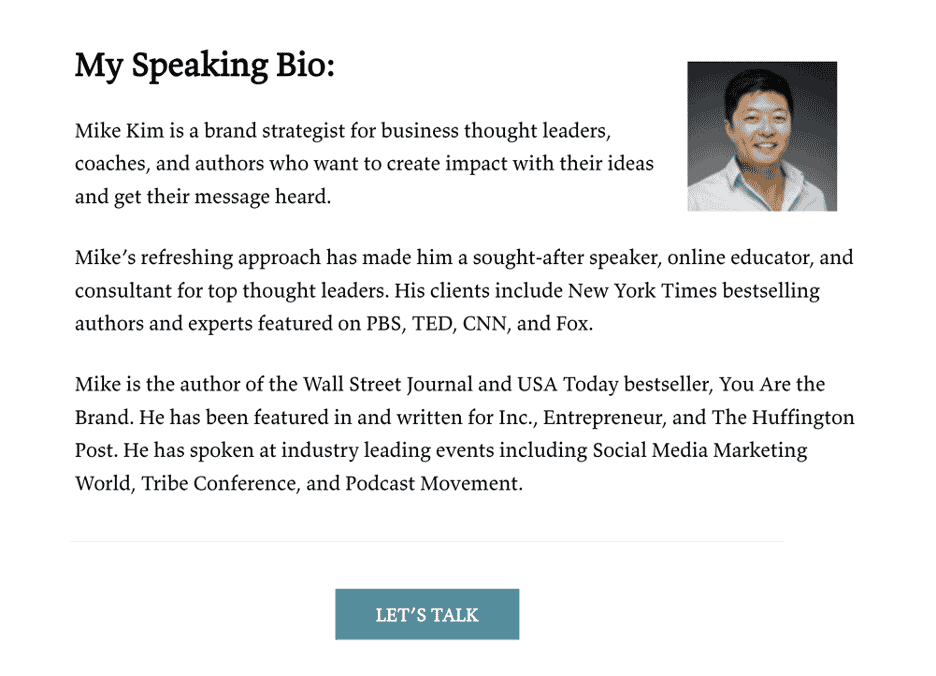 Mike Kim's speaker bio is a great example of using relevant accomplishments to make a good first impression with potential clients. He starts with a pithy sentence that captures the audience he serves and the value he adds. Branding is a competitive industry and Mike knows that his potential clients want to see qualifications. As a result, he emphasizes his impressive media and speaking experience. It's important to note how Mike utilizes a separate landing page for his speaking business. Mike does a lot more than speak, but doesn't want his other offerings to distract potential clients. His speaking page is linked in the menu of his personal website and offers a distraction-free, simple design showcasing this very to-the-point bio.
Joe's bio is a great example of how to capture all the principles we mentioned above with brevity. In just a few short paragraphs, he communicates what he does and why he's qualified to do it. His opening "hook" is an incredibly short sentence that still comprehensively represents his services and audience. While the bulk of the text comprises relevant accomplishments, he doesn't leave out a reminder that he's human and has hobbies and a family.
For another incredible example of a short and impactful bio, take a look at Nancy Duarte. A huge part of Nancy's personal brand is how she built up a successful communications business that works with big time clients. As a result, her bio absolutely exudes success–in less than 150 words! Like Joe above, she still includes a light-hearted line about her family that instantly appeals to grandparents and dog lovers alike. If you are working on a tight, professional bio to use as your go-to for speaking programs, contracts, and anytime you're unexpectedly asked to provide one…look to Joe or Nancy for inspiration!
Conclusion
We hope that our tips and examples of professional speaker bios have empowered you to write a bio worthy of all your amazing accomplishments. Before you go, here's one final tip. Are you worried about word limits after trying to integrate all five fundamental principles of an awesome speaker bio? Start with a longer "master bio" that you can update and edit for each and every context. That way, if you become dissatisfied with some element of one version, you can always replace it or freshen it up without having to come up with new content.
You're awesome. Your bio deserves to be awesome too. What are you waiting for? Start writing!